What Is Pure Nutrition Coconut Oil ?
Pure Nutrition Coconut Oil is all-natural extra-virgin coconut oil, which is nature's richest source of medium-chain triglycerides (MCTs).  Coconut Oil has an extensive range of benefits and uses for health and longevity, and it has a natural desirable flavor making it great for cooking, adding to smoothies, and other food uses. Many people even use coconut oil as a skin moisturizer and hair conditioner, preferring it over commercial beauty products that are filled with synthetic ingredients.  
Pure Nutrition Coconut Oil is:
Rich in MCTs

100% Natural

Non-GMO and Preservative-Free

Raw (Unrefined), Extra-Virgin, and Cold-Pressed

Paleo- and Keto-friendly

Suitable for Vegans and Vegetarians
The MCTs in coconut have a rather vast body of evidence showing they can increase energy, support healthy blood glucose levels, promote cognitive function, reduce inflammation, and may even decrease the risk of certain metabolic diseases.
Benefits of Pure Nutrition Coconut Oil:
Dietary fats come in two forms: saturated and unsaturated (coconut oil contains the former). While many people assume saturated fat is inherently less healthy than unsaturated fats, it's not that simple.
The saturated fats in coconut oil are a special subtype of fats known as medium-chain triglycerides (MCTs), which means they contain between 6-12 carbons in their fatty acid structure. Unlike many dietary saturated fats that are found in the typical diet, these MCTs are rapidly absorbed and digested through the portal system via passive diffusion.
MCTs are then readily oxidized for energy in the liver, and some evidence suggests this makes them better for weight loss and appetite control then long-chain fatty acids.1
There are three types of MCTs found in coconut: caprylic acid (C8), capric acid (C10) and lauric acid (C12).
Research has shown that even a modest dose of coconut MCTs increases ketone body production significantly.2  
Intuitively this is just what keto dieters would want since ketones are their primary source of energy.
Moreover, even for people who consume a higher-carb diet, coconut MCTs are still preferentially used for energy by the body (as opposed to being stored as body fat).
Other research has demonstrated that MCTs have potent antibacterial, antiviral, and antifungal activities, which is one reason coconut makes for such a useful topical skin and hair enhancer.3 Caprylic acid has also been shown to be effective at improving blood lipid profiles of hypertensive rats, though data in humans remains limited.4
Overall, there is a growing body of evidence showing that coconut oil has a multitude of health and longevity benefits thanks to its MCT content and simple digestion; these benefits include:
Promotes cognitive function

Supports healthy blood glucose balance

Enriches the skin and hair when used topically

Natural antimicrobial properties

Increases ketone body production

Great for cooking, baking, and other food uses
Why Choose Pure Nutrition Coconut Oil  
Pure Nutrition Coconut Oil is one of the highest-quality coconut oils available, being completely raw, unfiltered, extra-virgin, and cold-pressed. Many coconut oil products contain coconut that has been significantly processed and filtered, leaving a product that contains less MCTs (and possibly even trans fat).  
Each bottle of Pure Nutrition Coconut Oil provides 450 grams of all-natural coconut oil and is produced in a cGMP facility in the EU.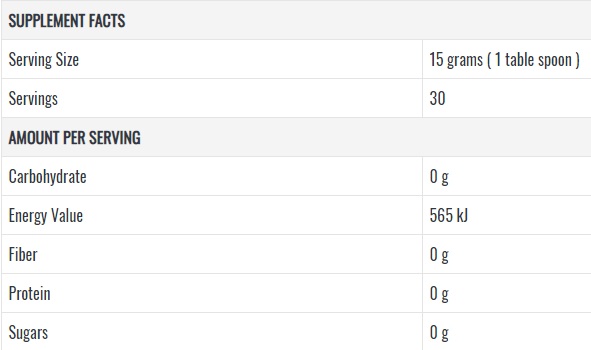 References
1.  Dean, W., & English, J. (2013). Medium Chain Triglycerides (MCTs). Nutrition Review.
2.  Reger, M. A., Henderson, S. T., Hale, C., Cholerton, B., Baker, L. D., Watson, G. S., … & Craft, S. (2004). Effects of β-hydroxybutyrate on cognition in memory-impaired adults. Neurobiology of aging, 25(3), 311-314. 
3.  Tholstrup, T., Ehnholm, C., Jauhiainen, M., Petersen, M., Høy, C. E., Lund, P., & Sandström, B. (2004). Effects of medium-chain fatty acids and oleic acid on blood lipids, lipoproteins, glucose, insulin, and lipid transfer protein activities. The American journal of clinical nutrition, 79(4), 564-569.
4.  Nasir, N. A. M. M., Jalaludin, A. A., Abllah, Z., & Shahdan, I. A. (2018). Virgin Coconut Oil and Its Antimicrobial Properties against Pathogenic Microorganisms: A Review.